Welcome!
THE SCHOOL DISTRICT OF PHILADELPHIA
 SOLIS-COHEN ELEMENTARY SCHOOL
7001 HORROCKS STREET
PHILADELPHIA, PENNSYLVANIA 19149
March 26, 2021
IMPORTANT ANNOUNCEMENT
Dear Solis-Cohen Families,
I am pleased to give you an update about the construction schedule for our school building and explain how it will affect  the remainder of this school year.  We have entered Phase 3 of the construction plan, which includes the removal of all portable classrooms and trailers in preparation for the demolition of  the old building.  Each section will be demolished over the course of the next few weeks.
While this is an exciting time that ushers in a new chapter for our school, it does mean that we will be unable to welcome back students in grades 3 through 5 next month. As you may have heard, the School District of Philadelphia announced on March 25 that students in grades 3-5 would be a part of the next wave of students eligible to engage in the Hybrid Learning Model.  Although we are eager to bring our students back, it is necessary that we keep the building closed in order to advance the demolition and put us in  a very good position for a smooth and safe school reopening — in our new building — for the 2021-2022 school year.
We will be preparing all summer for school reopening for all grades inside the new building, which will have new furniture and technology.  It is a very exciting time for our school family and community and we hope you can understand the need for us to remain in a 100 percent digital learning environment at this time.  Please join our Facebook page if you haven't already done so at Solis-Cohen Elementary School and visit our district website at https://soliscohen.philasd.org.  We will be posting information and pictures of the demolition and new construction soon. If you have any questions, please feel free to contact me at 215-400-3250 or at mdserianni@philasd.org
Sincerely,
Dr. Michelina Serianni, Principal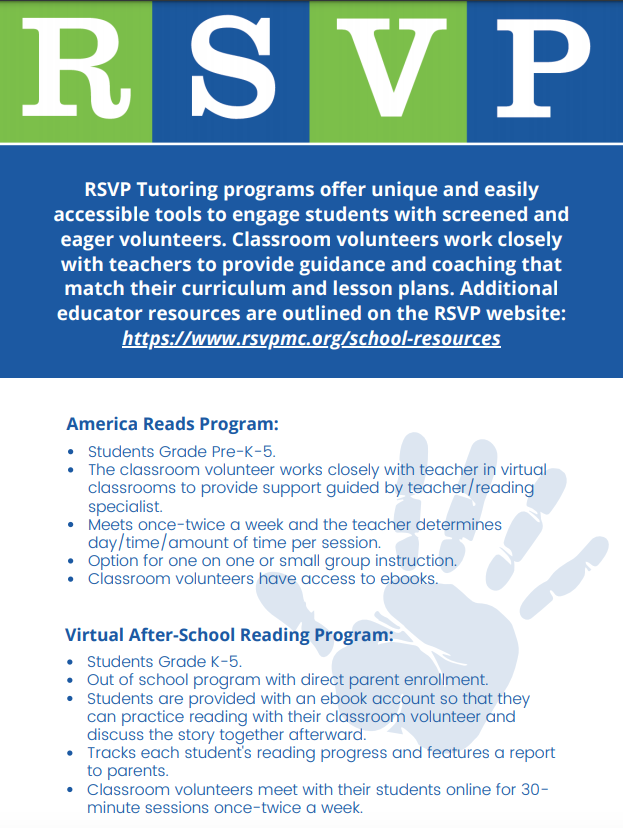 SPIRIT FRIDAYS in APRIL 2021

Food Service Information – Meal Distribution Sites
● Please visit this website to find the closest distribution site near you: https://www.phila.gov/food/
● Each box contains seven breakfasts and seven lunches. Check out sample boxes on our        website: https://www.philasd.org/foodservices/
In addition to developing ways to increase participation, we are making a few noted additions to our program.
● We now offer six pieces of fresh fruit each week.
● December 18th distribution, we will start to offer a five-day supper meal box of fresh sandwiches.
● January 15th, 2021 we will open an additional 41 locations for a total of 103 distribution locations across the city.
Internet Access Options for Families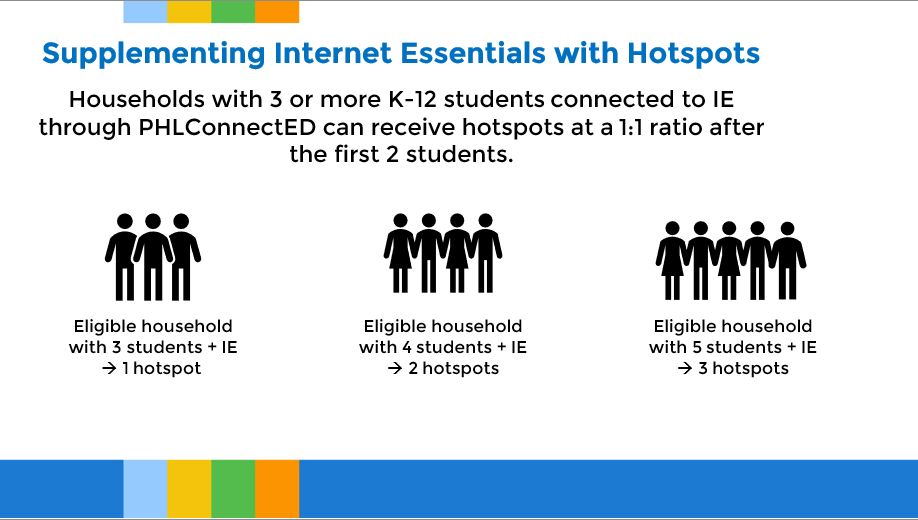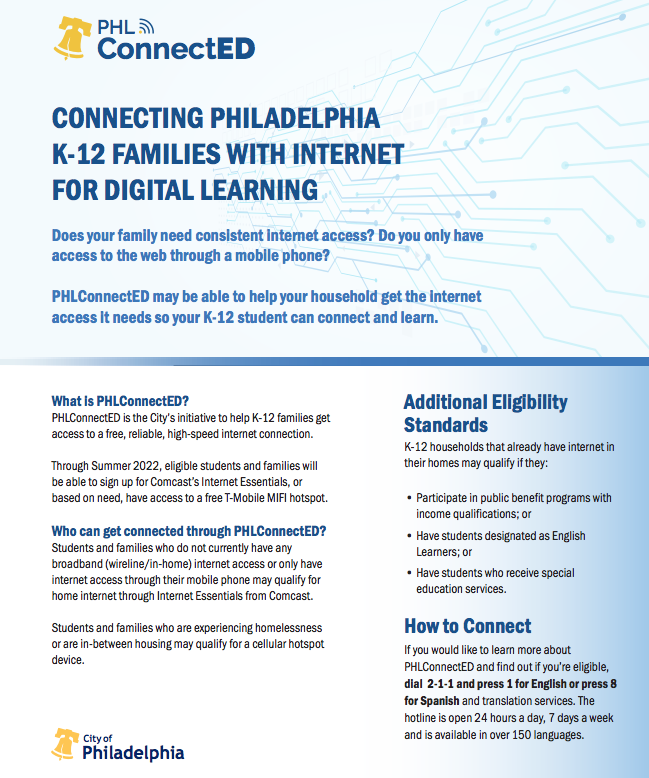 K8 Campus Parent Stepper – p. 17

Parents/Guardians who do not yet have a Parent & Family Portal can register for one by visiting the Office of Family and Community Engagement's Parent & Family Portal website. Here, you will find a stepper and a brief video that provides instructions on how to register, as well as other resources.
If parents/guardians do not have a Parent & Family Portal they can still review their students' grades by logging in with their student and following the steppers to review grades
Welcome Back to Solis-Cohen
Philadelphia School District Central Offices
Central Offices will remain operational but still operate remotely.
As a reminder, the Philly HopeLine is available M-F from noon to 9 p.m.
and Saturdays and Sundays from noon to 4 p.m. to provide counseling services
for students, parents and guardians who may need additional support during these difficult times.
Phone or text 1-833-PHL-HOPE (1-833-745-4673)
            Message from Dr. Michelina Serianni, Principal
Welcome to Solis-Cohen Elementary School!
Solis-Cohen School serves students in Kindergarten – 5th Grade in the Northeast. Our school represents a diverse population of students, staff, parents and community members who work collaboratively together to achieve high academic success and positive social interactions. As the principal, I am committed to our students to ensure the best path to college and career readiness. I look forward to working together to accomplish our mission!